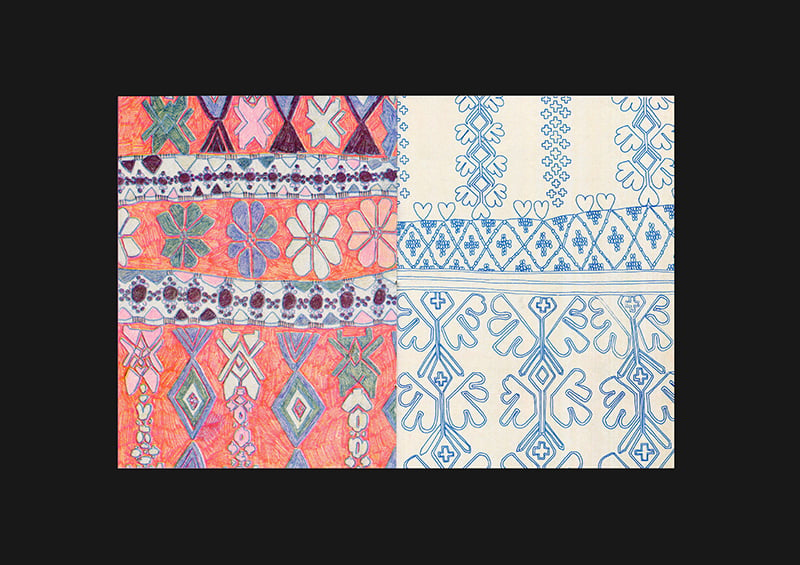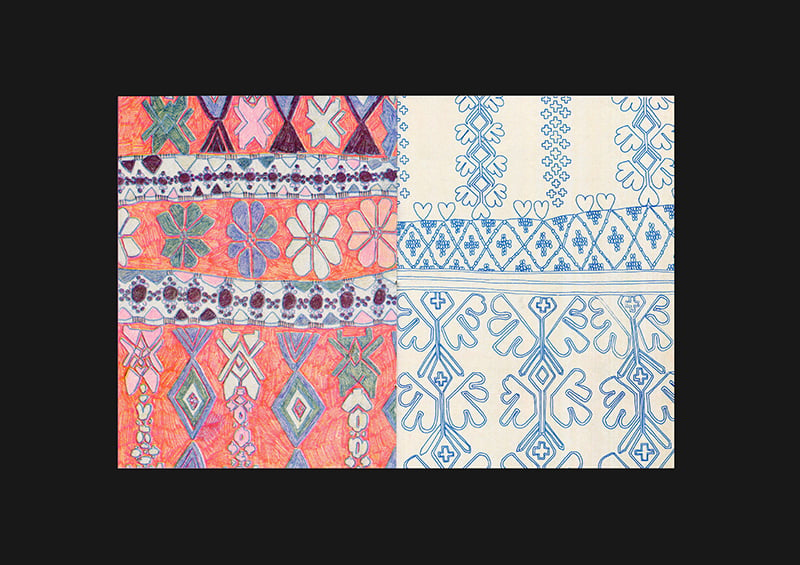 Some Notes on the Use of Textiles in Sona
€30.00
This is a book with twenty drawings printed in risograph. There are ten with four colours (CMYK) and the with one colour (blue). The original drawings were made with colour pencils, markers and crayons.
The drawings represent details of traditional textiles found in Sona, village in Transylvania, Romania. I spent two weeks in this village during the month of August 2022 as one of the artists in residence at "Sounds Like a Book". The residency is located in a beautiful restored Saxon house painted blue (second image).
Before, people from rural areas used to spend most of their winter months inside the house. This was a perfect occasion to work on the textiles the family needed for the daily life, such as blankets, bed linens, carpets or clothing. Young girls would dedicate time to the preparations of their trousseau for their future wedding.
In villages like Sona it is still possible to see some of these textiles pieces being used or displayed at people's homes. One of the neighbours, a lady called Marioara, was kind enough to show me her collection. The drawings gathered in this small book are done from Marioara garments, which were either made by herself or inherited from her relatives.
Pages: 20 (plus covers)
Size: 19.5 x 26.5 cm
Printing: risograph, four inks
Binding: hand-sewn with waxed natural linen thread
Unique edition of 40 copies
Year: 2022
***
Hablemos de este libro impreso in risografía con veinte dibujos. Hay diez impresos usando cuatro colores (CMYK) y diez usando un color (azul). Los dibujos originales fueron realizados con lápices de colores, rotuladores y ceras.
Los dibujos representan detalles de tejidos tradicionales encontrados en Sona, un pueblo de Transilvania, Rumanía. Pasé allí dos semanas durante el mes de agosto de 2022 como una de las artistas en la residencia «Sounds Like a Book». La residencia se encuentra en una hermosísima casa sajona restaurada pintada de azul (segunda imagen).
Antes, la gente que vivía en zonas rurales solía resguardarse la mayor parte del invierno dentro de la casa. Era la ocasión idónea para trabajar en los textiles que la familia necesitaba en la vida diaria, como mantas, ropa de cama, alfombras o prendas de vestir. Las chicas jóvenes también se dedicaban a los preparativos de su ajuar de cara a una boda futura.
En lugares como Sona todavía se pueden localizar algunas de estas piezas textiles siendo utilizadas o expuestas como decoración en las casas. Una de las vecinas, una señora llamada Marioara, me mostró su colección. Los dibujos reunidos en este pequeño libro están hechos a partir de las piezas de Marioara, las cuales confeccionó ella misma o forman parte de su herencia familiar.
Páginas: 20 (sin incluir las cubiertas)
Medidas: 19,5 x 26,5 cm
Técnica de impresión: risografía, cuatro tintas
Encuadernación: cosido a mano usando hilo de lino encerado
Edición única de 40 ejemplares
Año: 2022